November 1, 2016
CPG Achieves ISO 9001:2015 Certification
CPG TRANSITIONS FROM ISO 9001:2008 TO THE UPDATED ISO 9001:2015 STANDARD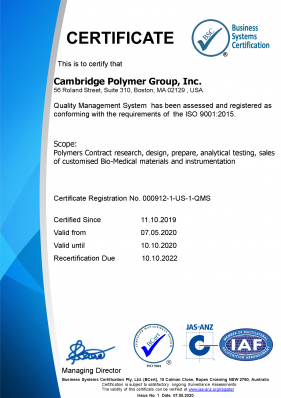 Cambridge Polymer Group is pleased to announce that it is now certified as an ISO 9001:2015 compliant organization by International Certifications Ltd. 
CPG is certified as meeting the requirements of ISO 9001:2015 for the following activities:
Contract Research and Analytical Testing Laboratory
Design and Manufacture of Custom Materials and Instrumentation
Previous to transitioning to the ISO 9001:2015 standard this November, CPG has maintained ISO 9001:2008 certification since 2010.
ISO 9001:2008 vs. ISO 9001:2015
In September 2015, the International Organization for Standardization released a new revision of the ISO 9001 standard, giving ISO 9001:2008 certified organizations three years to transition. 
In addition to the rigorous quality requirements of ISO 9001:2008, ISO 9001:2015 stipulates that certified organizations assess risk, not only to themselves but also to customers and stakeholders. The updated standard ensures that ISO 9001:2015 certified organizations pay greater attention to the external perspective of customers. 
Cambridge Polymer Group's Commitment to Quality
CPG's early attainment of ISO 9001:2015 demonstrates our commitment to our customers and to quality. We strive to understand our customers' needs and to meet and exceed expectations. Our quality policy is an integral part of our strategy of being recognized as the premier contract research organization in North America, offering a full range of contract research services, excellent technical support and innovative products.