May 30, 2012
UHMWPE for Total Joint Arthroplasty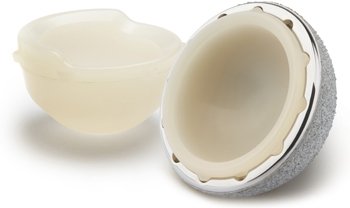 In the 10th Anniversary Issue of BoneZone, a trade journal focusing on arthroplasty, CPG staff were asked to write an article on the history and future of ultra high molecular weight polyethylene for use in total joint arthroplasties such as hip and knee replacements.  This article breaks down the history of UHMWPE as follows:

First generation of highly crosslinked UHMWPE
First introduced in the late 1990's, these materials were irradiation crosslinked with either gamma or electron beam radiation, with doses from 50 to 100 kGy. The post-processing on these materials either involved annealing (heating below the melting temperature) or melting (heating above the melting temperature) in an attempt to reduce the number of residual free radicals that could react with oxygen, leading to embrittlement.

Second generation of highly crosslinked UHMWPE
In response to implant design requiring improved mechanical properties, second generation crosslinked UHMWPE were introduced between 2005 to now (2012). These second generation materials did not use melting to reduce the effects of free radicals, but rather addressed free radicals through mechanical deformation, repeated annealing, or antioxidants.

Future generations of UHMWPE
It is likely that future generations of highly crosslinked UHMWPE will incorporate gradients in crosslink density, providing high crosslink on the bearing surfaces, and low crosslinking in the regions requiring high mechanical strength. Alternative antioxidants will likely be considered as well.

To see the full article, follow this link.