April 16, 2020
Cambridge Polymer Group 3D Prints COVID-19 Equipment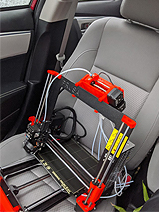 Cambridge Polymer Group owns two 3D printers, a PRUSA and a Leapfrog Xeed. We use them for making prototypes and creating custom instrument parts. When Massachusetts Governor Baker issued the shelter-in-place order on March 23rd, we brought our printers home, so that we could join the worldwide movement to alleviate the shortage of personal protective equipment caused by the coronavirus pandemic. The PRUSA called shotgun, so the Leapfrog Xeed had to ride in the backseat.
In the weeks that followed, CPG employees continued to work remotely, and some of us returned to the lab to work on COVID-19 related projects. During down time, our CPG 3D printer operators set to work producing PPE, including CPAP brackets, face shields and ear guards.
CPAP BRACKETS FOR ITALIAN INFANTS

Cambridge Polymer printed brackets for CPAP units shipped to Italy in anticipation of infants suffering from COVID-19.
FACE SHIELDS FOR MEDICAL PROFESSIONALS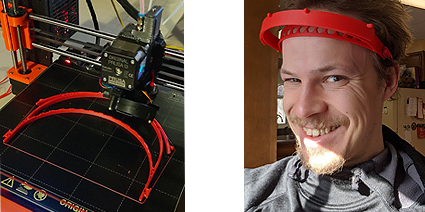 CPG also printed face shields for Massachusetts healthcare workers.
PLASTIC STRAPS FOR EAR RELIEF

While working in the lab on COVID-19 related projects, CPG scientists discovered firsthand that elastic mask loops cause ear friction. Our CPG 3D printer operators came to the rescue with ear savers. Invented by a 12-year-old Canadian Scout, the 3D printed guard pulls the elastic away from the ears, preventing the elastic from rubbing the ears raw and improving mask fit.
FACE SHIELD FAILS FOR COMIC RELIEF

"Virtually nothing comes out right the first time. Failures, repeated failures, are finger posts on the road to achievement. One fails forward toward success." - Charles F. Kettering