September 30, 2021
CPG Exhibits at Mass Manufacturing Mash-Up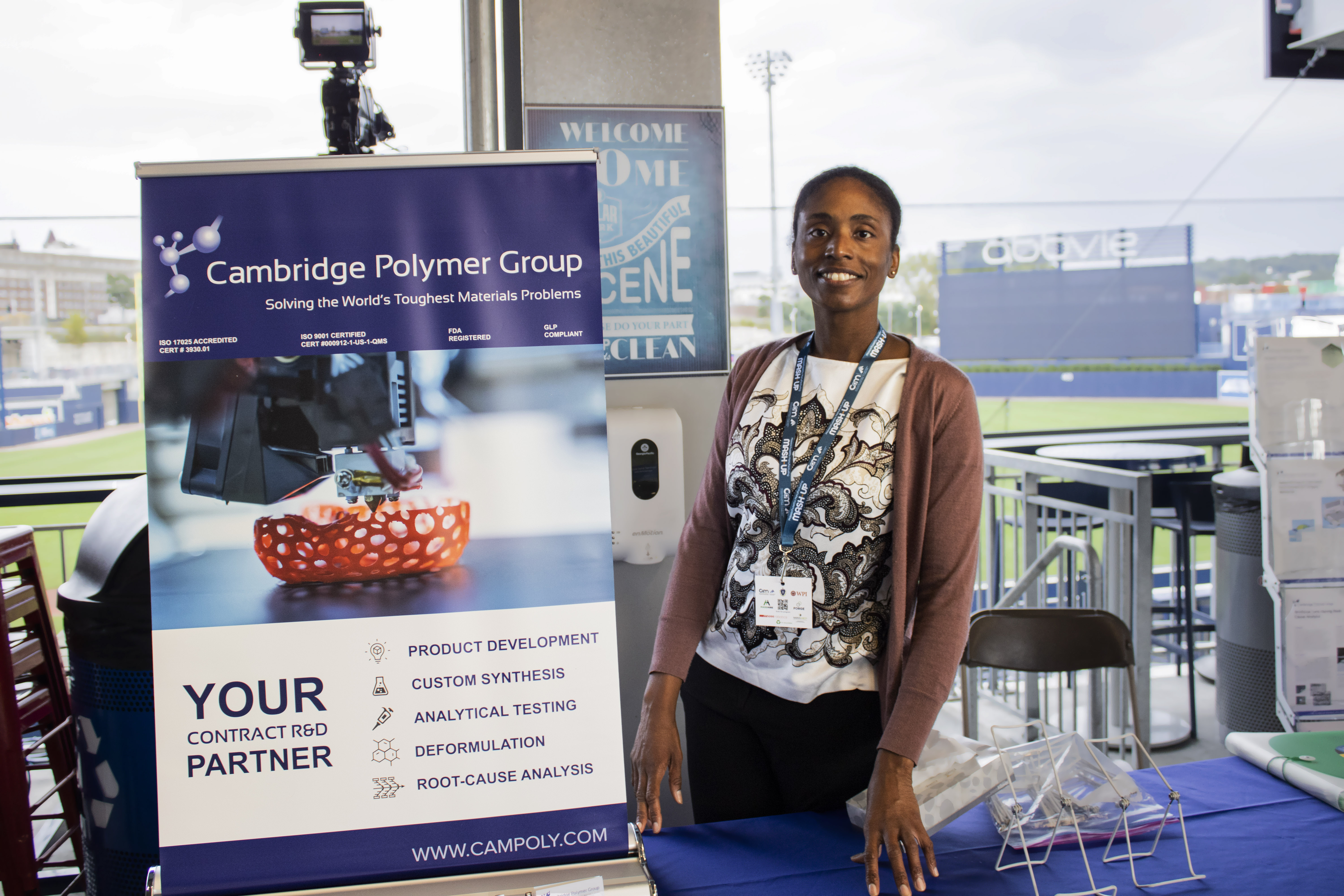 Research Scientist Veronica Holmes at CPG's table at the Massachusetts Manufacturing Mash-Up.
Cambridge Polymer Group is proud to have been an exhibitor at the first ever Massachusetts Manufacturing Mash-Up held on Tuesday, September 28, at Polar Park in Worcester, MA. The event attracted over 30 exhibitors and 600 attendees, including manufacturers, suppliers, academics and jobseekers.
Massachusetts offers a unique environment for manufacturing innovation. As the location of some of the world's best universities, Massachusetts benefits both from the cutting-edge research conducted at these institutions as well as the talented graduates who often remain in state and start their own companies. Perhaps this high-caliber talent pool is why Massachusetts ranks third in the US for venture capital investment. The Mash-Up, organized by the Center for Advanced Manufacturing at MassTech (CAM), MassMEP, MassRobotics, FORGE, WPI, and MassHire, was designed to foster greater connections between these area resources of academia, business, and skilled workforce to solve industry challenges.
CPG helps manufacturers and startups by developing solutions to their materials problems, at all stages of their product development, production and distribution cycles. Our contract research experts determine what analysis or development a manufacturer requires. Working with CPG provides manufacturers with access to state-of-the-art instrumentation, skilled equipment operators, and materials experts who translate test results into solutions. Buying specialized equipment and hiring the staff for short-term research needs is prohibitively expensive for many manufacturers. CPG provides manufacturers with analysis or development that optimizes product and accelerates success.
CPG appreciated this opportunity to connect with our local manufacturing community in 2021, and we look forward to next year's event!