June 14, 2021
CPG's Boston Office Is Relocating to Woburn in August 2021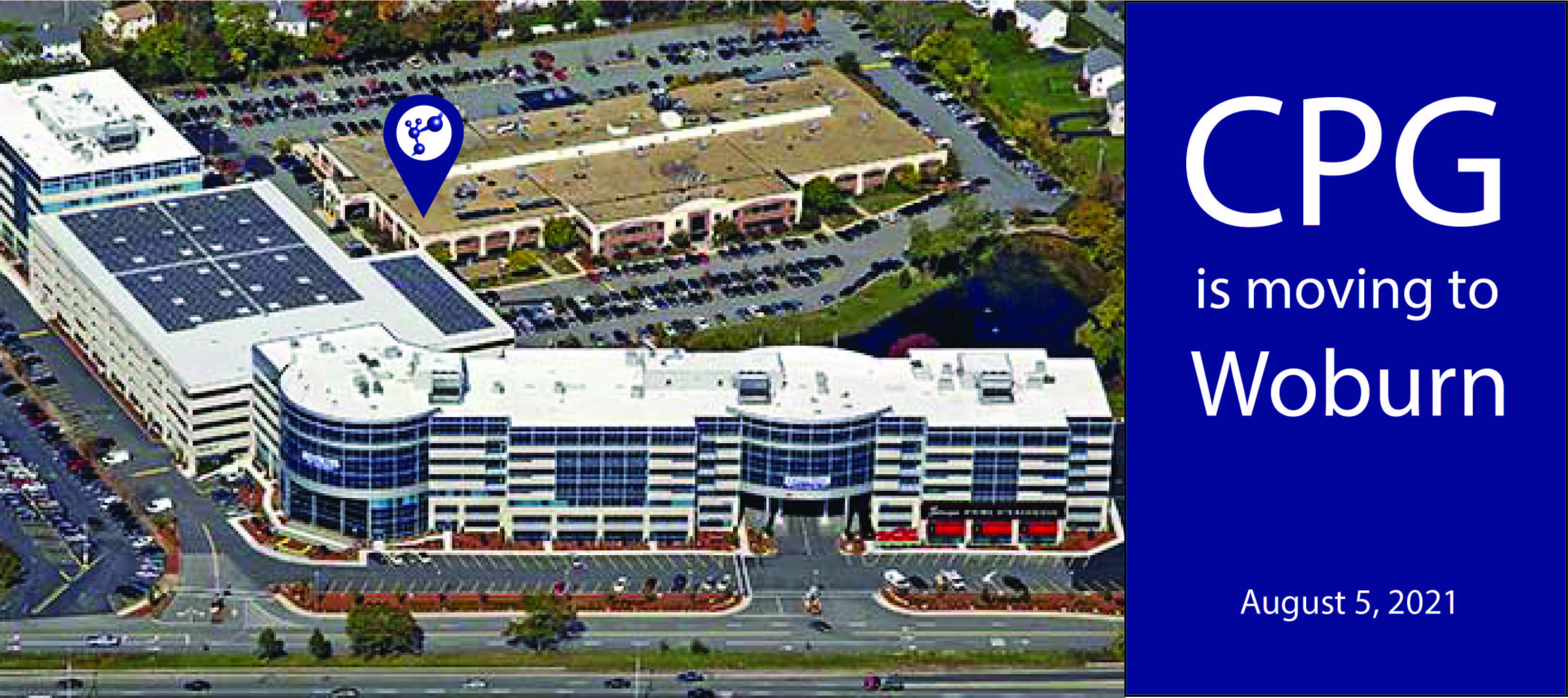 Cambridge Polymer Group, a premier contract R&D lab supporting medical device, pharmaceutical, consumer products and industrial companies, is moving to a new 17,000 SF facility on August 5, 2021. After two decades in Boston's Charlestown neighborhood, CPG is relocating to Cummings Properties' TradeCenter 128 campus in Woburn to accommodate rapid growth.
Conveniently situated on Route 128/I-95 on the Burlington/Woburn line, the new facility was chosen to fulfill Cambridge Polymer Group's requirement for a large, customizable, highly technical space. The 117% increase in custom-built lab space will allow us to meet the growing demand for our varied, specialized analytical testing and research & development services. The additional capacity accommodates the ongoing expansion of our product development, chromatography, and extractables & leachables departments.
Since the Woburn site is only 12 miles north of our Charlestown location, CPG will be retaining existing staff. The 11% increase in office space provides room for a welcoming reception area, a spacious conference room, and more cubicles and offices, allowing for the acquisition of additional team members. Our new location offers plenty of free parking for both employees and visitors.
As an ISO 9001:2015 certified and ISO 17025:2017 accredited (Cert # 3930.01) testing laboratory, CPG takes quality very seriously. We are implementing a carefully planned phase approach to the relocation, designed to ensure a smooth transition. Our plan minimizes workflow disruptions and meticulously maintains the integrity of project research and instrument calibration.
NEW CAMBRIDGE POLYMER GROUP ADDRESS
Cambridge Polymer Group, Inc.
100 TradeCenter Drive, Suite 200
Woburn, MA 01801
Our contact numbers will remain the same, including our main number: 617-629-4400.
FOR CLIENTS
As of July 30, 2021, we will no longer be able to accept samples at 56 Roland Street, Suite 310, Boston, MA 02129. A sample submission form with our new location details is posted on our website and linked in our email signature.
For RFQs, sample submission questions, and PO submissions, please contact CPGsales@campoly.com or call 617-629-4400, ext. 2.
If you would like to see Cambridge Polymer Group's new space and meet our team of PhD problem solvers, please email info@campoly.com to schedule a visit.
FOR VENDORS
Shipments should be delivered to our dedicated loading dock. For questions about deliveries, contact Receiving at receiving@campoly.com or 617-629-4400, ext. 21.
For Accounts Payable inquiries, please contact payables@campoly.com or 617-629-4400, ext. 3. 
We look forward to continuing to work with you at our new address.