September 13, 2013
Visit CPG at the Medical Grade Polymer 2013 Technical Conference

17-18 September 2013
Crowne Plaza, Boston/Woburn, Massachusetts
Click here for more information
Stop by

booth 10

and take a look at what we've been working on!
Cambridge Polymer Group is your premier contract research resource solving problems with our multi-disciplinary research team and full service laboratory. We provide routine analytical testing on materials, custom test design, consultation, and out-sourced assistance for translational research. We assist clients in developing new materials, design of prototypes for proof-of-concept studies, experimental design and data collection for patents and fund-raising, assistance with 510K approvals, and development of new materials for targeted applications. For problem-solving with your materials, we are a full-service, ISO 9001 certified CRO.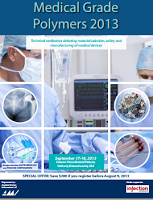 Medical Grade Polymers 2013 brings together medical device manufacturers and polymer suppliers, and aims to cover all aspects from innovative devices to biocompatibility testing. Experts in medical device design, manufacture and testing along with polymer producers and manufacturing machinery suppliers attend these events to discuss the latest developments in markets, technical and regulatory issues, and production technology.