Acrylic Bone Cement Testing Capabilities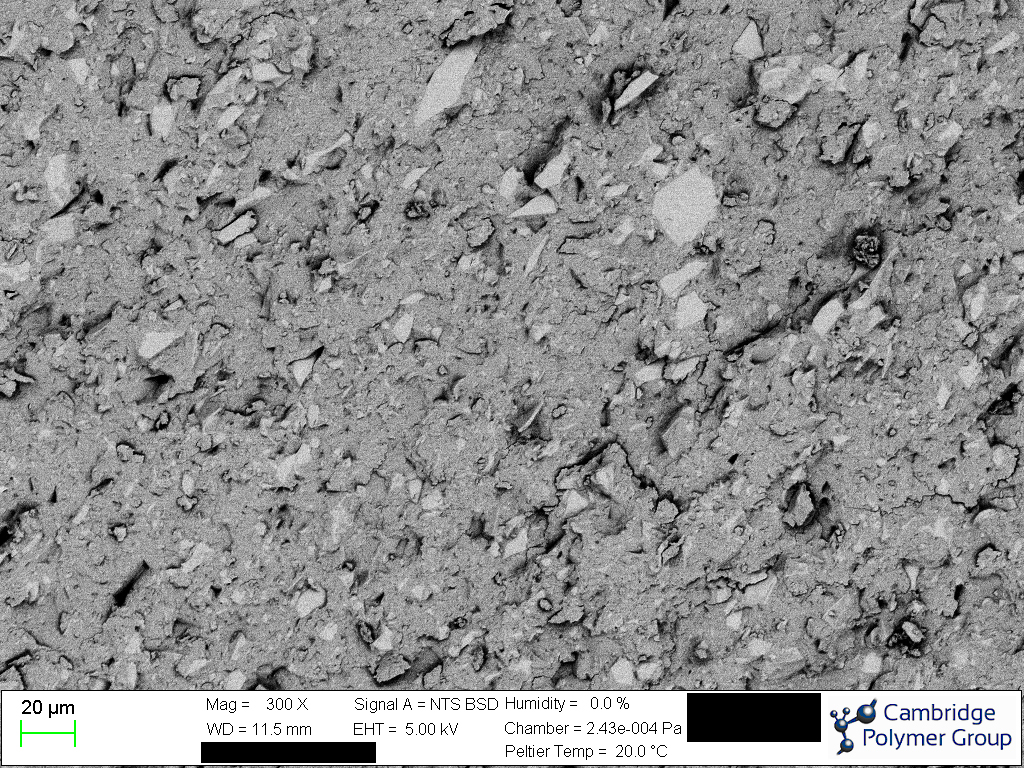 Image of radiopacifier at the surface of the cement, captured using a backscatter detector.
Acrylic bone cements are commonly used in hip, knee, and shoulder arthroplasties, as well as spinal kyphoplasty procedures. These polymethylmethacrylate bone cements are usually two-part compositions, in which a powder containing a pre-polymerized polymer or a blend of polymers is combined with a monomer liquid. Once the resulting liquid mixture is fully cured, it is used to fixture medical implants in vivo.
Cambridge Polymer Group has expertise in PMMA bone cements. We conduct routine and custom bone cement testing, and our team participates in the development of ASTM bone cement standards.
Acrylic Bone Cement Testing
CPG regularly assists clients with the following:
Molecular weight of starting components and cured cement
Identification and quantitation of individual components
Initiator content
Stabilizer content

Rheological assessment of curing cement
Dough time, set time, exotherm on cure, and intrusion

Compression testing
Fracture strength
Flex testing
We perform tests in compliance with ASTM F451 and ISO 5833, as well as other custom tests or client-requested tests. We can prepare test samples using customer formulations and have experience with multiple cement mixing systems. This testing can be performed under GLP conditions for regulatory submissions.
CPG can also assist in cement formulation modification. Our polymer chemists can help source raw materials or develop new formulations to meet customer specifications. 
Contact Us 
Contact a CPG scientist for your bone cement testing needs.