March 29, 2016
FDA draft guidance document on UHMWPE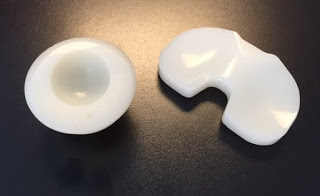 The FDA issued a draft guidance document on the required testing for devices using ultra high molecular weight polyethylene (UHMWPE) in February 2016. The guidance document separates UHMWPE into four categories: (1) conventional UHMWPE; (2) highly crosslinked UHMWPE; (3) Vitamin E stabilized UHMWPE; and (4) other forms of UHMWPE, including porous UHMWPE. In each category, test methods are suggested, including fatigue crack propagation, crystallinity assessment, oxidation index measurements, crosslink density, free radical concentration, radiation by-products determination, and antioxidant concentration. The guidance document indicates that some properties, such as mechanical characterization through tensile and impact strength, need to meet minimum threshold values indicated by ASTM F648, whereas other properties should be compared to results obtained from a predicate material.

Cambridge Polymer Group has extensive experience in testing UHMWPE to this guidance document. Contact us for more information. Additional information on UHMWPE characterization can be found on our website.


The draft guidance document is available for public comments for 90 days. Comments can be submitted here.