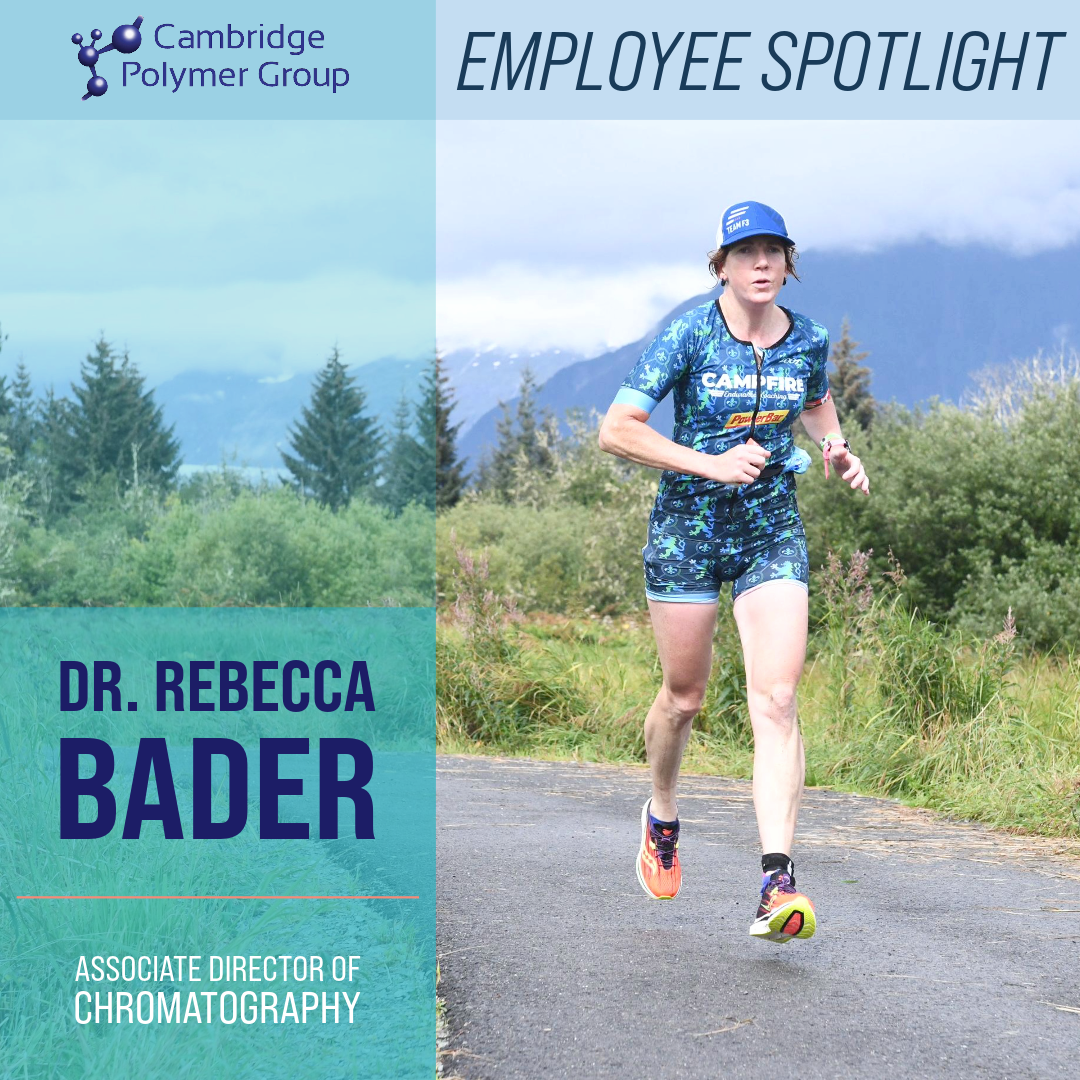 CPG Employee Spotlight: Dr. Rebecca Bader
Dr. Rebecca Bader is Cambridge Polymer Group's Associate Director of Chromatography and our biocompatibility specialist. She has a PhD in Materials Science from Oregon State, a master's in chemistry from Princeton, and has taught biomedical engineering at Syracuse University. Becky worked for CPG for four years until 2019 when she moved to the West Coast. We are thrilled that she has returned, both to the East Coast and to CPG.
How did your time away from Cambridge Polymer Group help you in your current role?
"I worked with a pharma company, doing contract research for formulations and drug delivery. I picked up some GMP skills. I decided though that I wanted to work in medical device because I really missed contract research in material science. I very much missed materials, so I took a series of NAMSA classes on 10993-18 and biocompatibility to get into the industry. I leveraged that certificate along with my previous CPG experience to apply for biocompatibility expert roles, which focused on my material science expertise combined with my knowledge of the ISO standard.
I was hired by a medical device company as a biocompatibility engineer in their Regulatory Affairs department. I was able to pick up on FDA and EU regulatory expectations, beyond just biocompatibility.
Over the past two years, I also completed some women's leadership courses from Cornell University."
Now that you're back on our team, how do CPG clients benefit from your experience?
"I can now provide more regulatory input as well as biological risk assessments that are tailored to the appropriate market."
Do you have any advice for women trying to advance in science?
"It's OK to stand your ground and to ask for what you think you deserve. Those are both things that women struggle with inherently, a little bit. Women tend to be less confrontational. I also think it's OK to be emotional sometimes."
What is your favorite part of your job?
"I get to work with brilliant people who care about science and are ethical and above board. Also, I love bringing in new business related to medical device and biocomp."
What are your favorite activities outside of the office?
"Triathlon. My gift to being an athlete is endurance. I can hold the same effort level indefinitely. I used to be a competitive marathon runner but I've switched to only racing Ironman where the marathons are a little slower.
I've been to the world championships four times now, and I'm not satisfied with how I've done, so I keep going back to race. This past year I had heat stroke and Covid, it was the slowest race I've ever done.
Running is my favorite thing in the whole world; it's my stress release. I love training with my dogs and my person, Adam. I have springer spaniels because they're the most hyper dogs, and they suit my personality. They run with me, they swim, they're very Becky-like. Adam shares my love for exercise and my passion for material science."
Becky is racing Ironman in Lake Placid this week, but she'll be back next week, ready to apply her winning combination of expertise and endurance to your material science challenges. Feel free to reach out about your ISO 10993 needs.