Synthetic Tissue Phantoms
Few trends within the healthcare industry are more predictable than increasing surgical complexity matched by decreasing invasiveness. The benefits are unmistakable, however practical challenges remain regarding how best to train the surgeons and doctors of the future.  Traditional methods of using cadaveric models are no match for modern education settings, limitations include limited life, ethical obligations, cost, repeatability, and difficulty in obtaining specimens.  More importantly a cadaver's physiology is not always sufficiently similar and generating a reliable model for diseases is not easy.
The demand for tissue phantoms is clear; hydrogel models can match the desired tissue mechanical properties, and can be tailored to provide a specific function or response.  By matching the general structure and water content of natural tissue, hydrogels have proven to be a superior alternative to commonly used rubbers and elastomers.
Specific Application for various models includes:
Constructs for testing cardiovascular tools
Skin substitutes for testing suturing and pull-out forces
Casts of major organs (IMAGE) for surgical training
Hydrogels with the correct permittivity and conductivity to match the electromagnetic properties of bone and soft tissues
Focusing initially on arterial models by matching the compliance of aortic vessels, our abilities have evolved into an advanced casting procedure capable of fabricating two-ply constructs incorporating particulate matter to mimic lesions or plaque formation. Composite construction design is an ongoing process continually incorporating additional detail including pores of varying diameter. Please contact us for further information.
Available Tube Sizes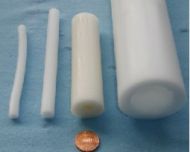 The tubes can be cast in several sizes, as shown in the table below. Tube lengths can be as large as 12 inches, depending on the inner diameter. Custom sizes are also available contact us for more information.